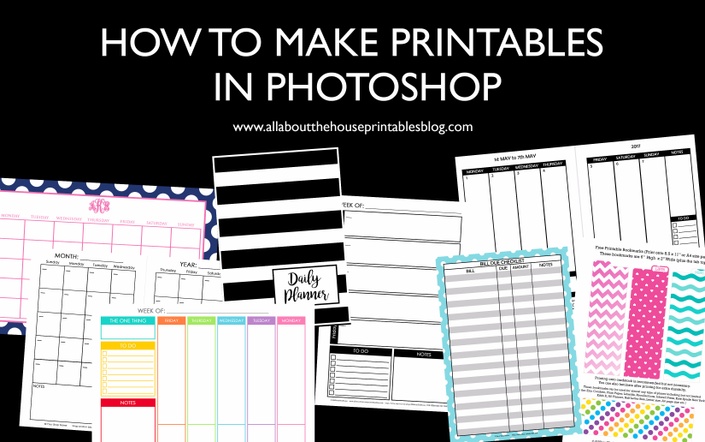 How to Make Printables in Photoshop
Step by step video tutorials so you can design a planner that suits YOUR planning needs!
Enroll in Course
Do you cringe thinking about how much you've spent on planners you never use?

Are you sick of trying to hack together a planner with printables downloaded from here there and everywhere?
What if you could make your own?
If you want to learn how to make printables, you're in the right place. For the past 8 years I've self-taught myself how to create all types of printables from printable planners, to planner stickers, to daily planners, weekly planners, monthly calendars, planner accessories such as bookmarks as well as home organizing printables, chore charts, planner covers, recipe binders and computer screensavers to name a few!
Making printables is my favorite thing to do - it's very fun and addictive! It used to take me hours to create printables, now I can whip them up in a matter of minutes. My designs are sold in my Etsy shop, All About Planners (which has over 24,000 sales). I also blog about printables & organization at http://allaboutplanners.com.au/
This ecourse includes all of the tips, shortcuts and methods I use to create planner printables in Photoshop.
No more trying to hack together printables from here, there and everywhere to create a planner that suits your needs – you'll be able to design the planner printables you want, whenever you want!
In this course you'll learn:
How to use Photoshop to make printables (no prior Photoshop experience is required!)

Detailed step-by-step video tutorials you can pause, rewind and re-watch as many times as needed!

How to use any colors you want in your designs

My favorite resources for free commercial use fonts

How to create planner printable templates you can use again and again to make a lot of printables in a short amount of time

The shortcuts I use to speed up my workflow plus some of my own templates worth $100

Plenty of example planner page layouts for inspiration
Learn how to make a complete planner from scratch!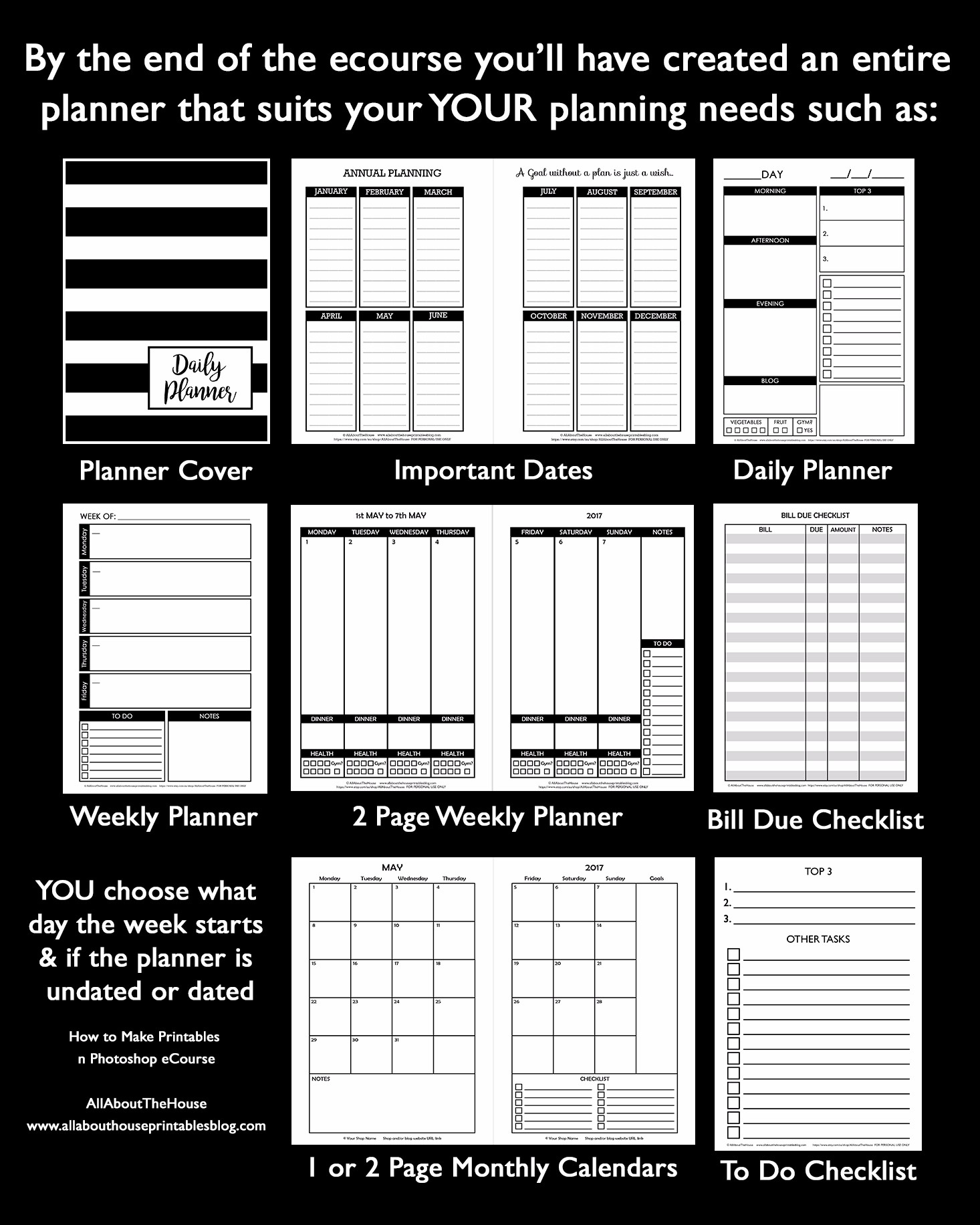 By the end of this course you'll be able to:
Create a planner printable in a matter of minutes

How to create printable unique to you, including how to make a style guide

Create a complete planner from start to finish including daily planner, weekly planner, monthly calendar, to do checklist, important dates page, meal planning, bill due checklist etc.

You can create a planner that is exactly to your liking - you get to choose if the week starts on a Sunday or Monday!

How to use a template (which I teach how to make in the ecourse) to create more printables

Create planner printables at any size you like – personal size, half letter, A5, A5, Erin Condren planner size etc.!

How to create coordinating printable planner accessories such as planner bookmarks and planner covers

How to use patterns & clipart to add interest to your designs

Learn to create printables to organize & decorate other areas of your life such as computer wallpaper/screensavers, iPhone, tray inserts, iphone wallpapers etc.
Unlike other ecourses, by the end of it you'll have a SKILL that can be used to create planner printables for yourself, or to create planner printables you sell on Etsy, your own website or via your blog.
The lessons below that include a 'preview' button are free tutorials you can go through to see if you like my teaching style.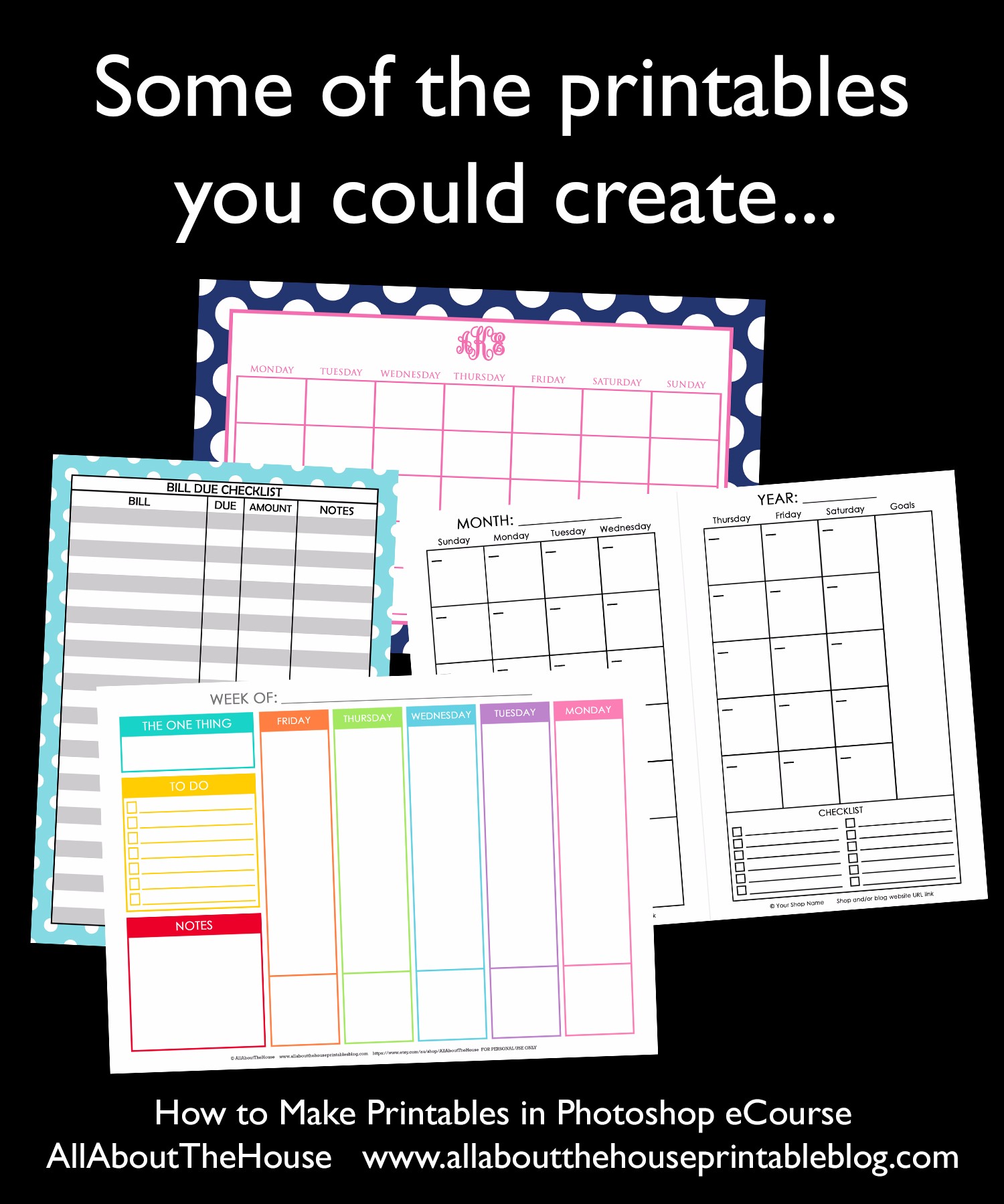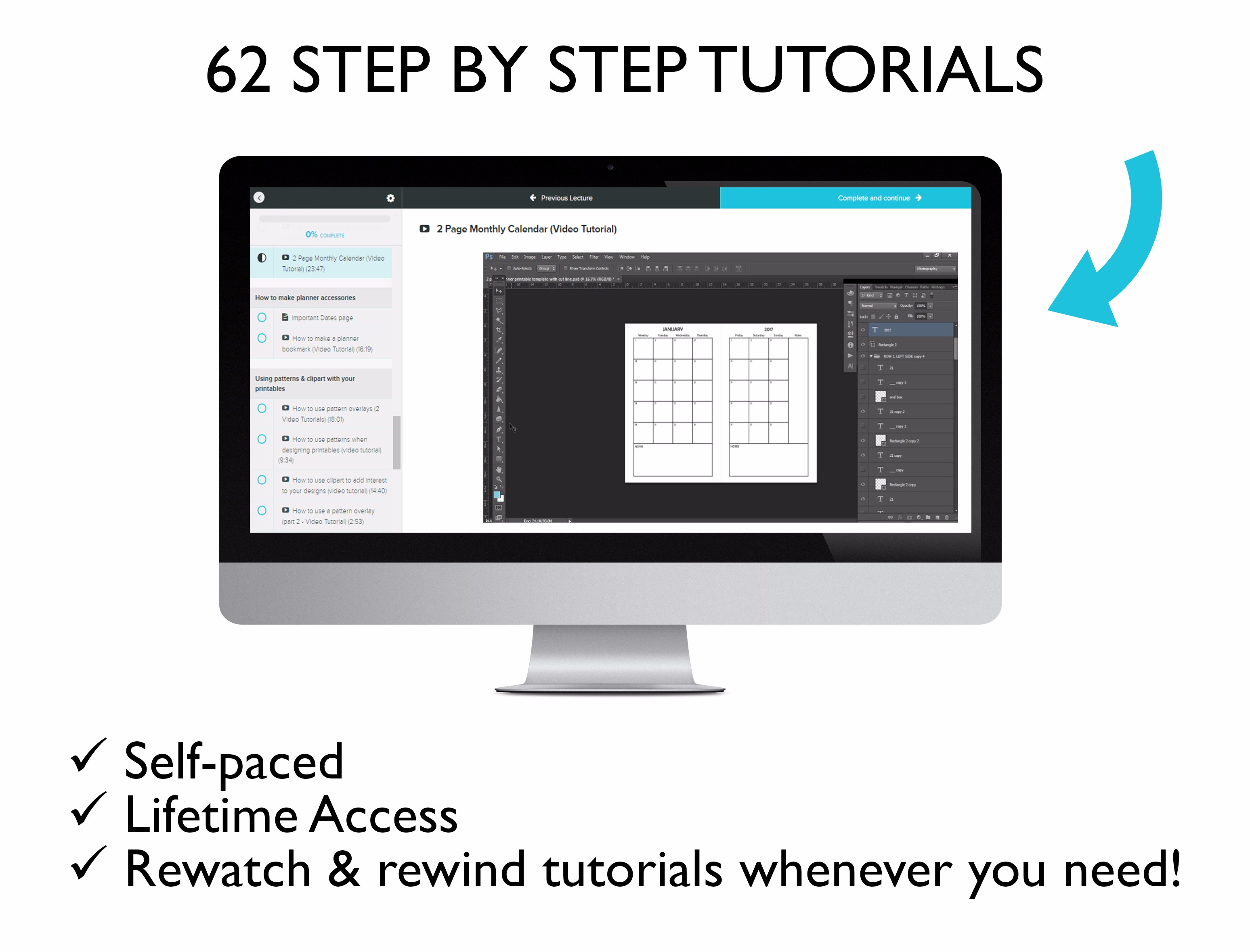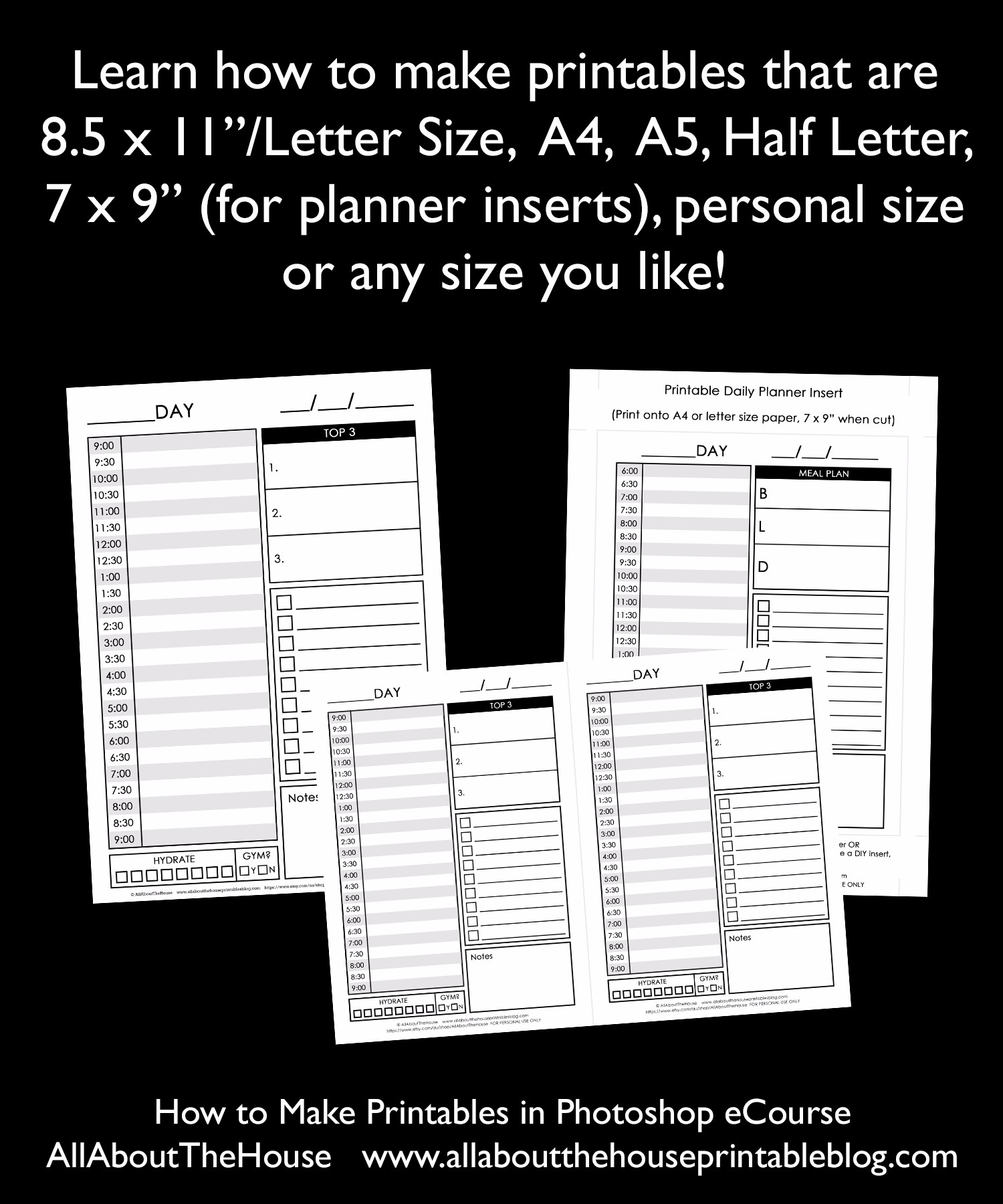 Who this course is for:
Bloggers that want to learn how to make their own printables to offer as an opt-in for their readers

Aspiring graphic designers

College students that are struggling to find a planner that suits their needs

Stay at home moms looking to make some extra money selling printables

Anyone that is sick of not being able to find that exact planner they want (you'll have the skills to make one that suits your exact needs!)

Anyone that wants to learn how to make their own planner printables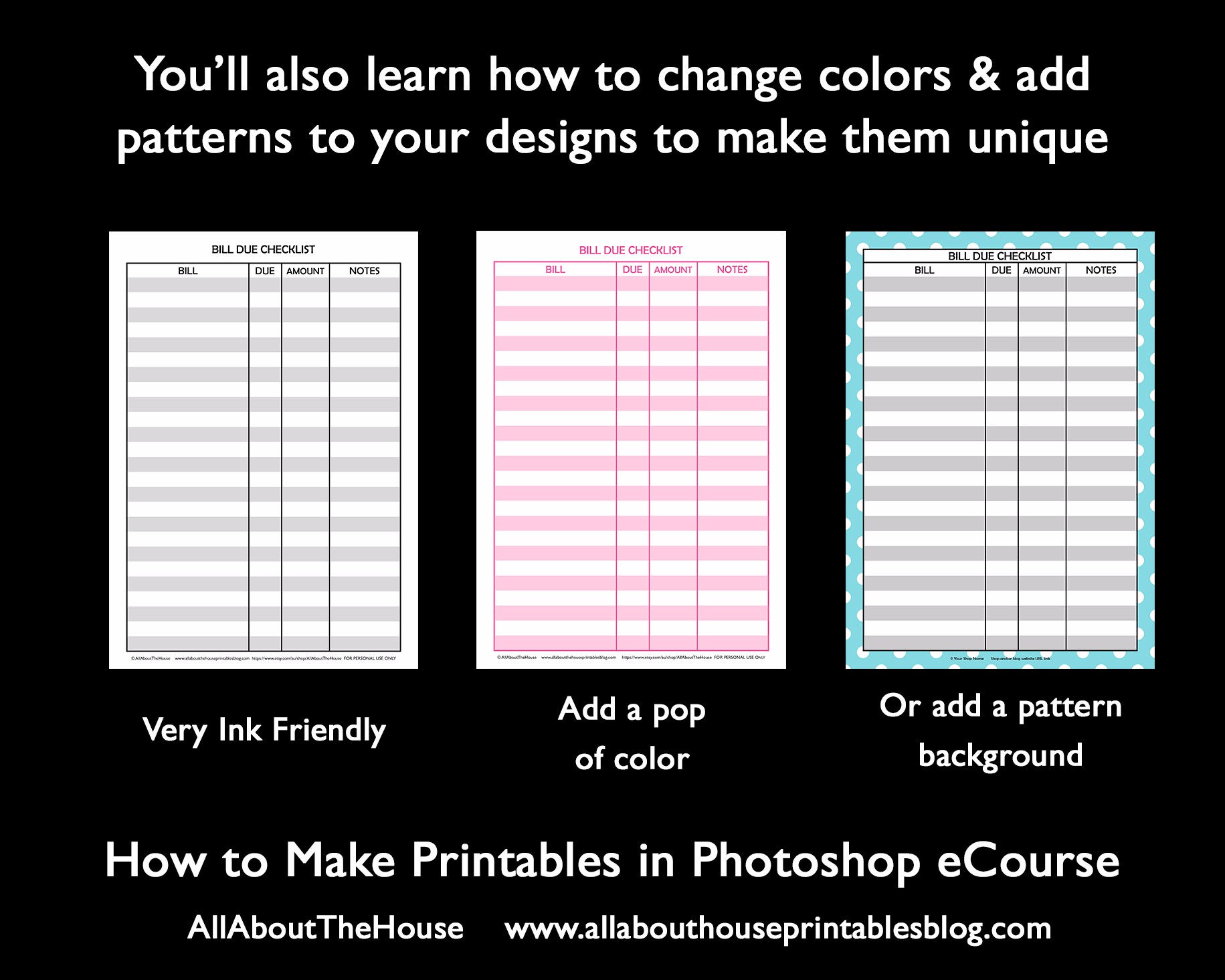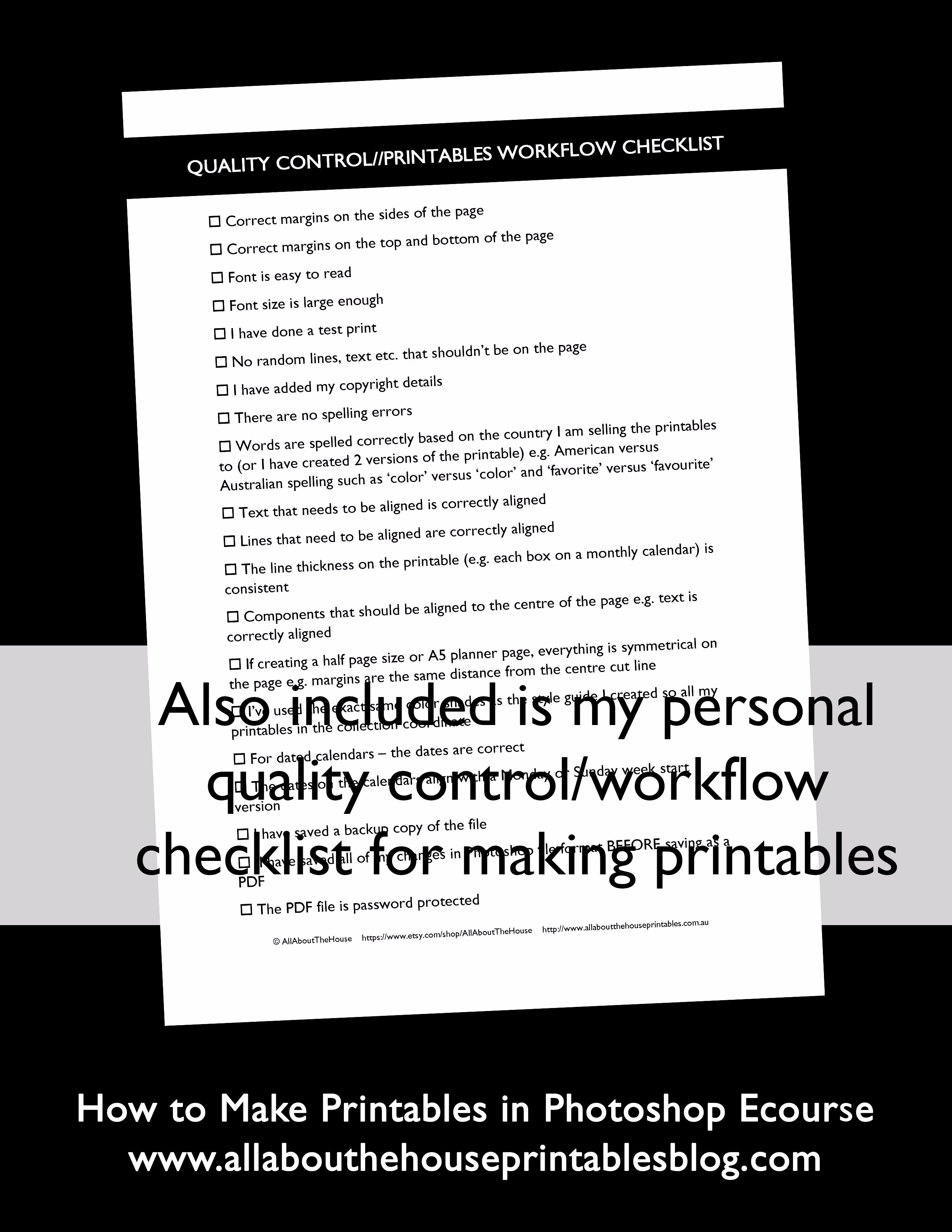 Also included are templates to speed up your workflow including:
Planner dividers template

11 x 17" calendar template

Color chart template

Popular color combinations chart template


Style Guide Template
Worth over $100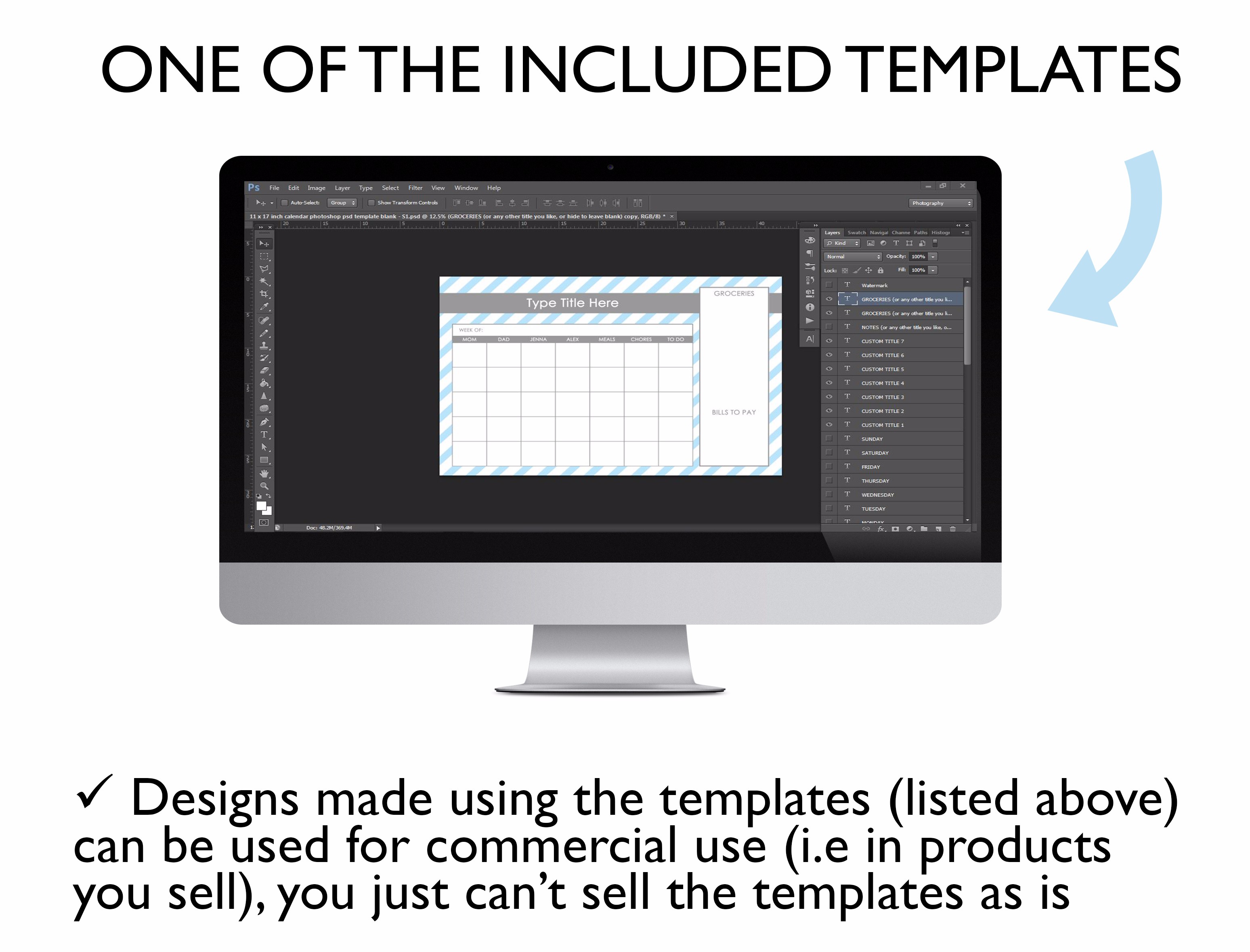 Frequently Asked Questions
When does the course start and finish?
This is a self-paced online course - you will receive immediate access to the ENTIRE ecourse after your enroll (even if you pay via a payment plan). If you enroll now, you can have your first printable created with an hour! You can access the course as many times as you want. You can pause, rewind and re-watch the tutorials as many times as you need.
How long do I have access to the course?
Lifetime access!
Software Requirements
The tutorials in this ecourse were made in Photoshop version CS6. They will work in CS5 and later versions of Photoshop as well as the current version of Photoshop (Photoshop Creative Cloud - CC). Please check if the version of Photoshop you are using is compatible before enrolling. I have included a few FREE sample tutorials (scroll up to the 'curriculum' section of this webpage to watch them) to you can see if your version of Photoshop is compatible. If you don't already own Photoshop, it costs $21 USD/month (cheaper if you sign up for the annual plan and pay in full), or you can download a free 7 day trial here: http://www.adobe.com/products/photoshop.html If you want to password protect your printables (which I highly recommend), you will also need Adobe Acrobat DC (or Adobe Acrobat Professional). Download a free trial here: https://acrobat.adobe.com/au/en/free-trial-download.html
I don't know how to use Photoshop
No problem! You don't need any prior experience using Photoshop . I'll show you step-by-step how to make your own printables!
What if I am unhappy with the course?
Unfortunately due to the digital nature of the ecourse, NO REFUNDS will be given under any circumstances - serious buyers only please. If you have any questions please contact me via
[email protected]
BEFORE purchasing and I will get back to you A.S.A.P (I usually reply to emails within 24hrs - note that I am located in Australia - when it is 10am in L.A. it is 3am here!)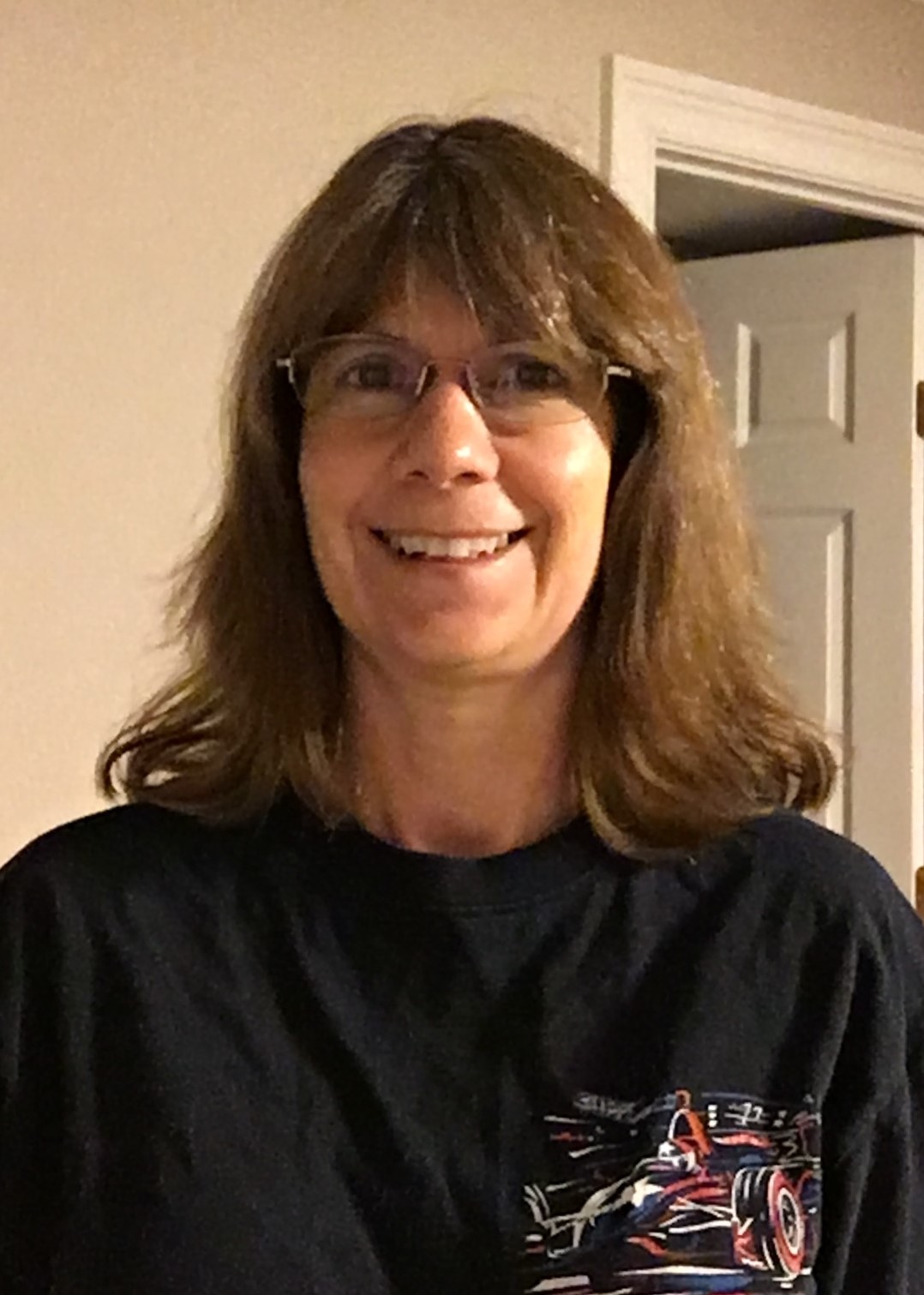 First of all, I want to say I LOVE, LOVE, LOVE your course!!! I was so hesitant to spend the money on it as I just want to learn these skills for personal use, and have no desire to start a business. But, it happens to be my birthday month so I let your course be my gift to myself. I'm so glad I did!!! I am learning so much! I love the way you explain things and the pace is excellent! I am having so much fun with it, and I'm only about 1/4 way thru! I'm excited about the rest of it. Thank you so much for this!!
I finished the lessons on Daily's this weekend and have started the Weekly ones. OMG! My head is spinning with excitement! I love how you show so many different variations and how easy it is to transform one layout idea into another. I am just beyond excited that I stumbled across your course, and took a chance on spending that much money on it. You have a wonderful gift for educating. Keep up the great work!

An email I recently received from one of my students (no filter, I literally cut and paste her email):
"As an educator and thirsty learner, I carefully choose which courses I invest in online.
When I discovered Rachael's courses on Printables and Creating Patterns, I knew I had struck a gold mine.

Rachael is one of the best teachers I've ever studied with. She is extremely knowledgeable and explains and demonstrates every step, carefully. In my mind, the sign of an exceptional educator is one who anticipates her students' questions, before they come up with those questions themselves.
Whether you are a beginner with Photoshop or have years of experience designing graphics, if you would like to learn how to create Printables, Planners, or Patterns, for personal use or professional gain, your investment in any course with Rachael would be extremely worthwhile."
From an appreciative and dedicated student

Bestselling Author of the Action Guides for Authors Series of Workbooks and Journals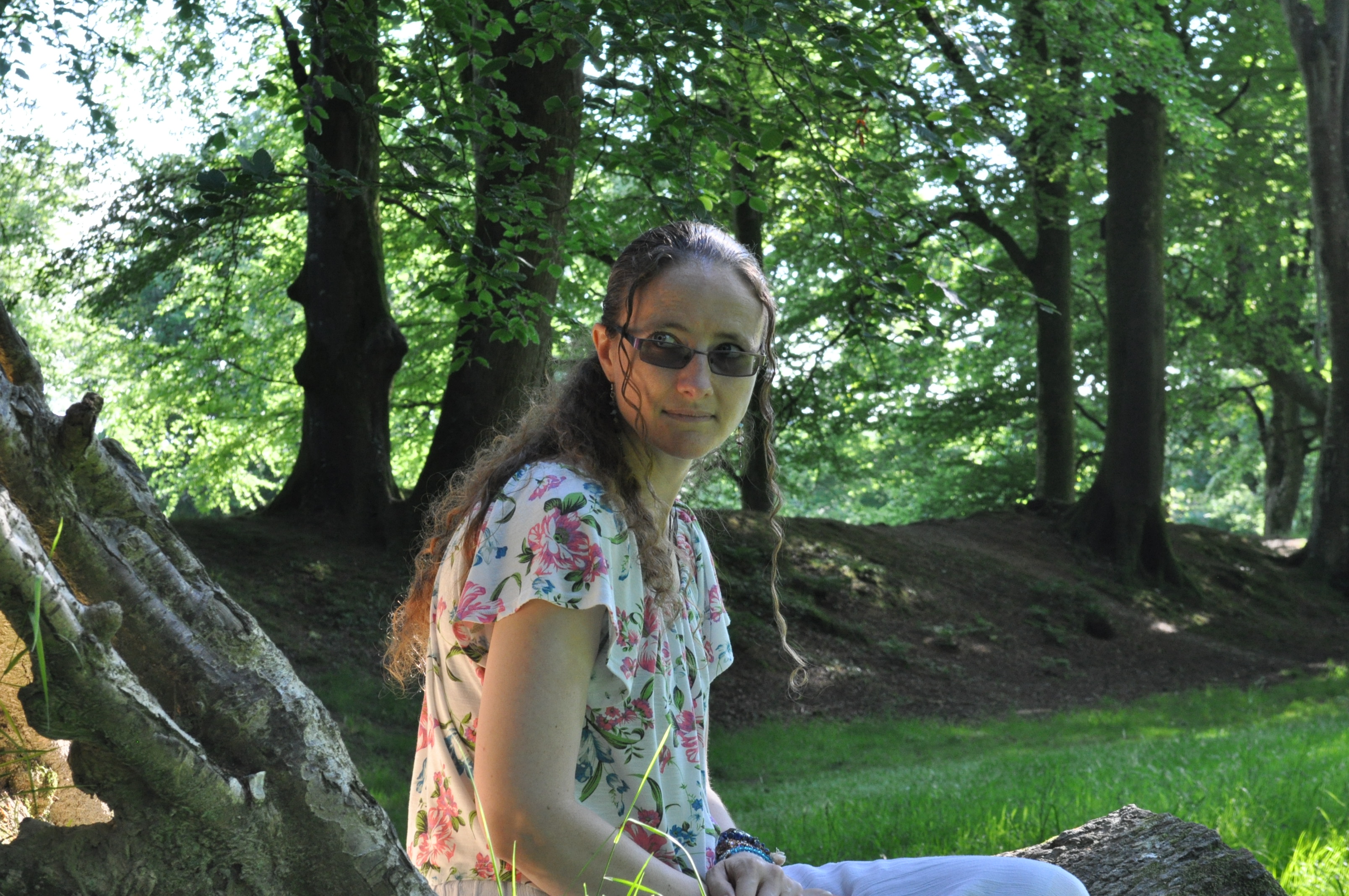 "This course is a must have for anyone wanting to make printables, I am in no way technical, and have avoided Photoshop in the past because of how difficult it looks! But Rachael breaks it down step by and shows you how easy a program it actually is. She provides all the information you need to navigate Photoshop and to create all types of printables and I think she probably should be charging a lot more for this course! Many thanks Rachael, you've made it possible for me to make beautiful printables for my readers!"
- Claire Saunders
Still not convinced?
I don't just tell you, I literally show you step by step and include plenty of different design ideas and quick ways to re-use and modify existing designs to make new designs.
This is a very comprehensive ecourse including 62 step by step video tutorials.
I've included everything I wish I had known when I first started making printables & share all of the tips I've discovered through thousands of hours of making printables.
If you enroll in the course it's not going to take long to make back the cost. I sell most of my printable planner sets for around $15. If you did the same you only need to sell 14 (of that ONE product) to make back the cost of the ecourse.


I know all of that probably sounds sales gimmicky but it's true - there's a lot of money to be paid making & selling printables.
Some reviews from my customers:






So if you're ready to make a planner that FINALLY suits your needs, or you want to earn extra income doing something fun, or entice readers to subscribe to your blog with a free printable, click the enroll button to get started.
You could have your first printable created less than an hour from now.