Do you cringe thinking about how much money you've spent on planner stickers?
Are you sick of trying to find the perfect stickers to suit your planning needs?
What if you could make your own?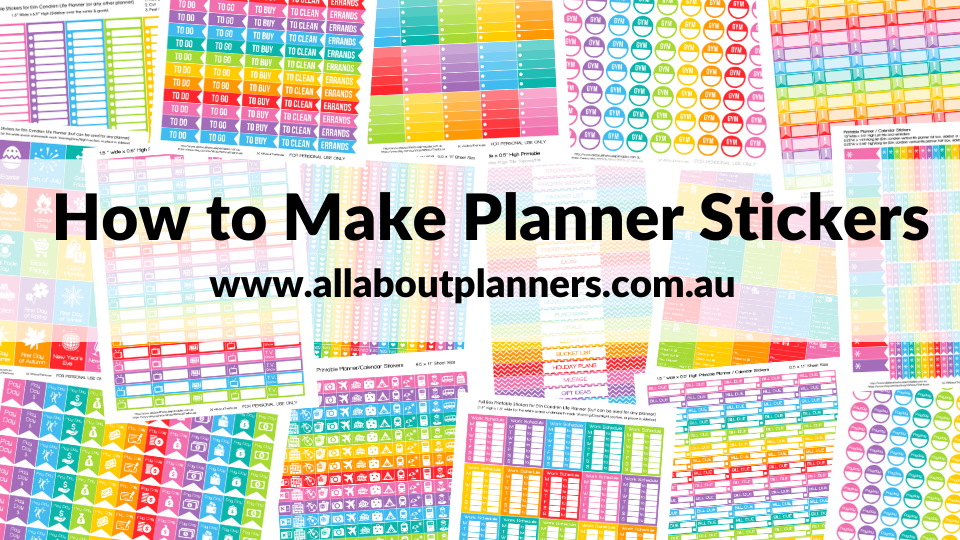 No more trying to find the perfect planner stickers that use a font you like, in colors you like and at a size that fits the planner you're using – you'll be able to design the planner stickers you want, whenever you want!
In this course you'll learn:

How to make planner stickers at any size

How to make popular planner stickers such as icons, headers, sidebar stickers, checklists, flags, teardrop stickers etc.

Numerous ways to make your stickers unique (including design examples)

Make stickers for planning anything and everything - from appointments, to birthdays, to health, to money, to blogging, to meal planning, to school etc.!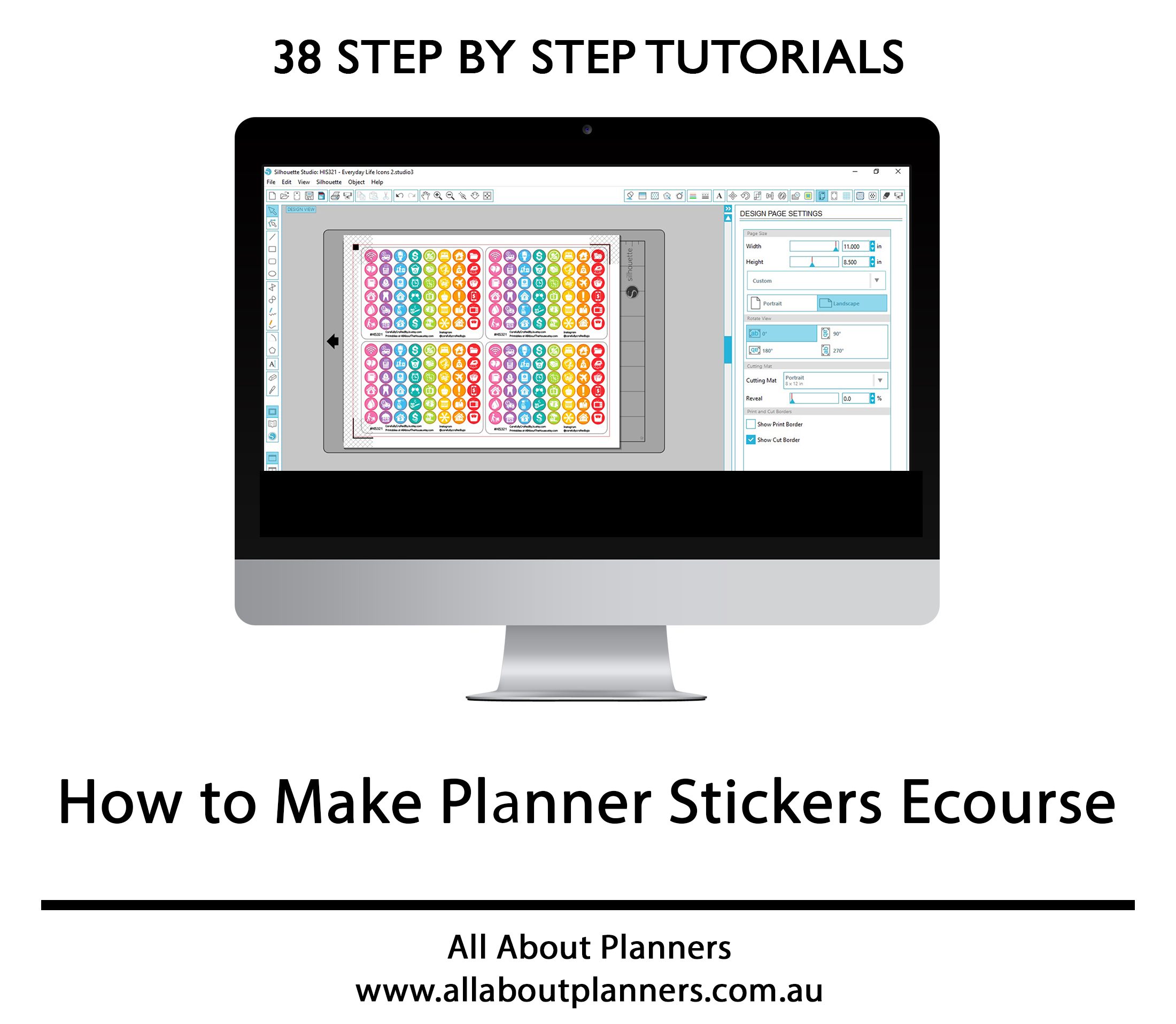 Why this course?
38 Detailed step-by-step video tutorials you can pause, rewind and re-watch as many times as you need!

I share my favorite tools and resources to make your stickers unique - everything from fonts, to color inspiration, to graphics, to icons to patterns to use in your stickers etc.

Learn how to efficiently make sticker templates you can use again and again

My best tips for speeding up your workflow that I've learned over the past 4 years that I've been making planner stickers

You'll learn how to make a complete sticker kit from start to finish
By the end of this course you'll be able to:
Make planner stickers in minutes

Make stickers that suit YOUR planning needs - in colors you like, in fonts you like and using graphics you like

Make stickers that fit any planner you like - you'll be able to make stickers at any size you need

If you want to start an Etsy sticker shop, you'll be able to create planner stickers that are unique and memorable

You'll be able to make printed & kiss cut stickers, as well as printable planner stickers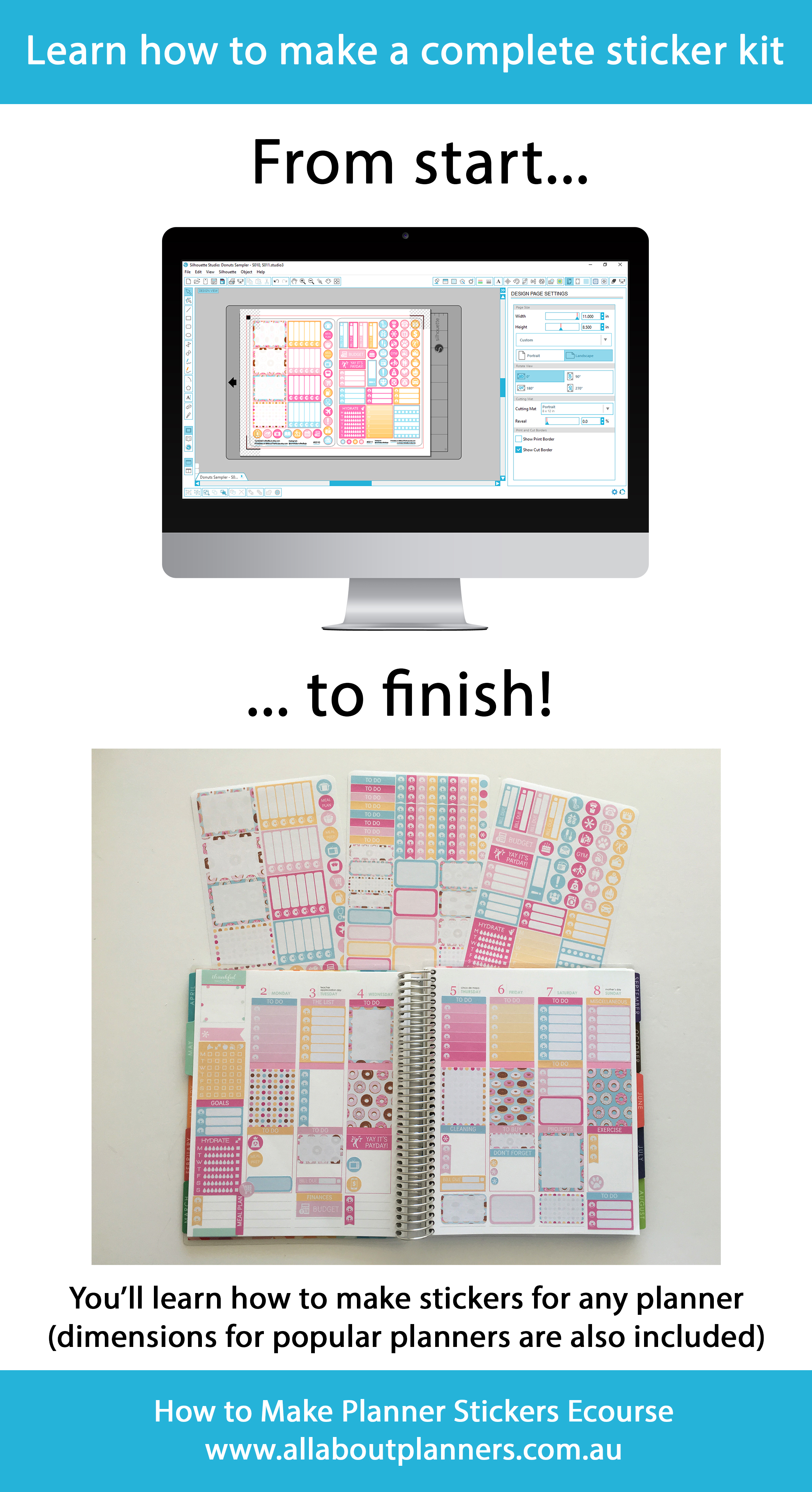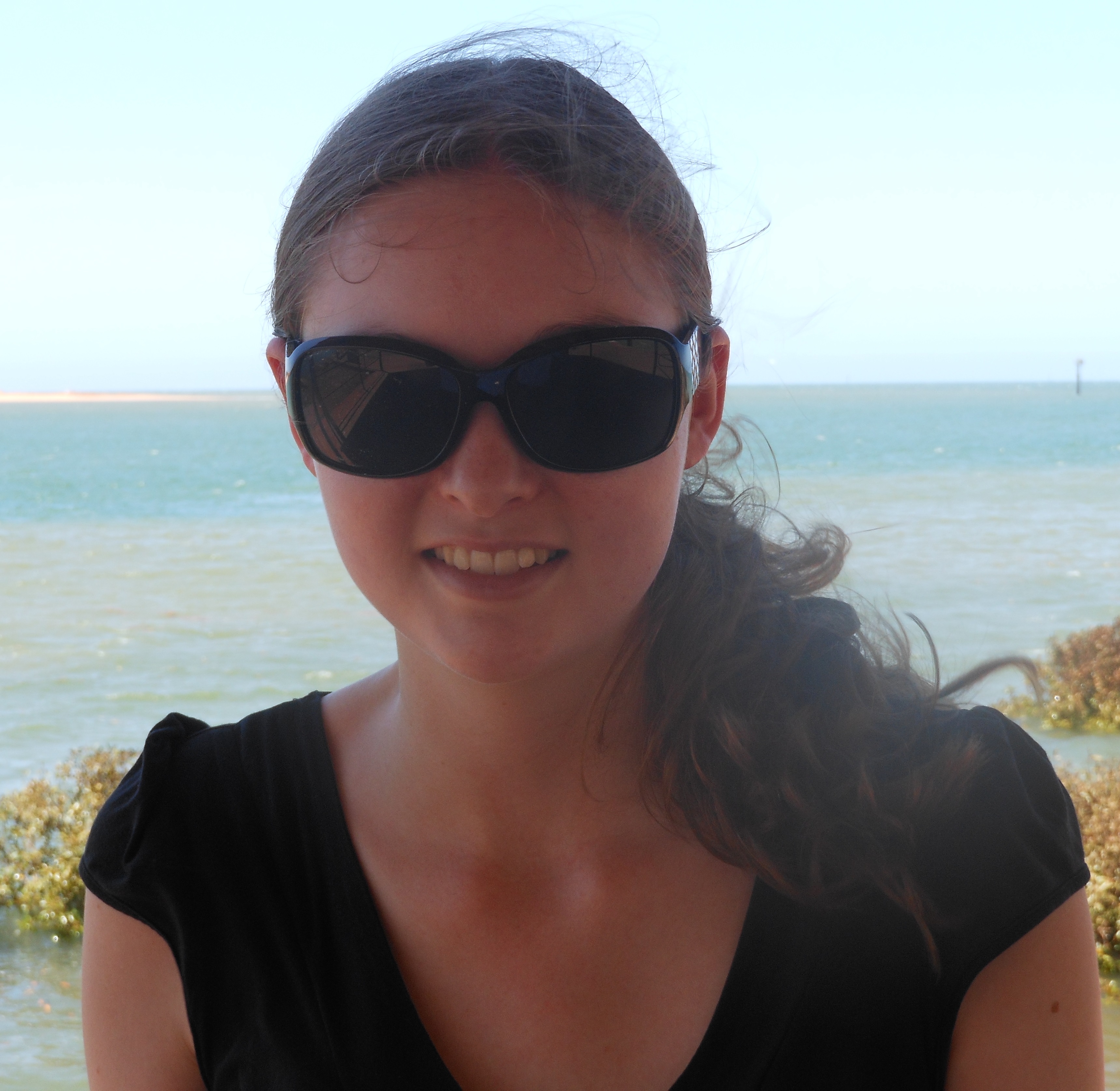 Hey there fellow planner addict!
If you want to learn how to make planner stickers then you're in the right place. I've been making planner stickers for the past 8 years.
I'm a self-taught graphic designer & planner addict. I sell printable planner stickers (as well as planner printables) in my Etsy shop, All About Planners (which has over 30,000 sales). I've teamed up with my sister to sell printed & cut versions of my planner stickers in her shop, Carefully Crafted by Jo.
I also blog about planning, printables, organization & graphic design at www.allaboutplanners.com.au
This ecourse includes all of the tips, shortcuts and methods I use to create planner stickers. There are 38 step by step video tutorials in this course - by the end of it you'll be able to make stickers from start to finish including entire sticker kits!
I also share my favorite resources for designing stickers including:
Fonts

Colors

Graphics

Patterns


Icons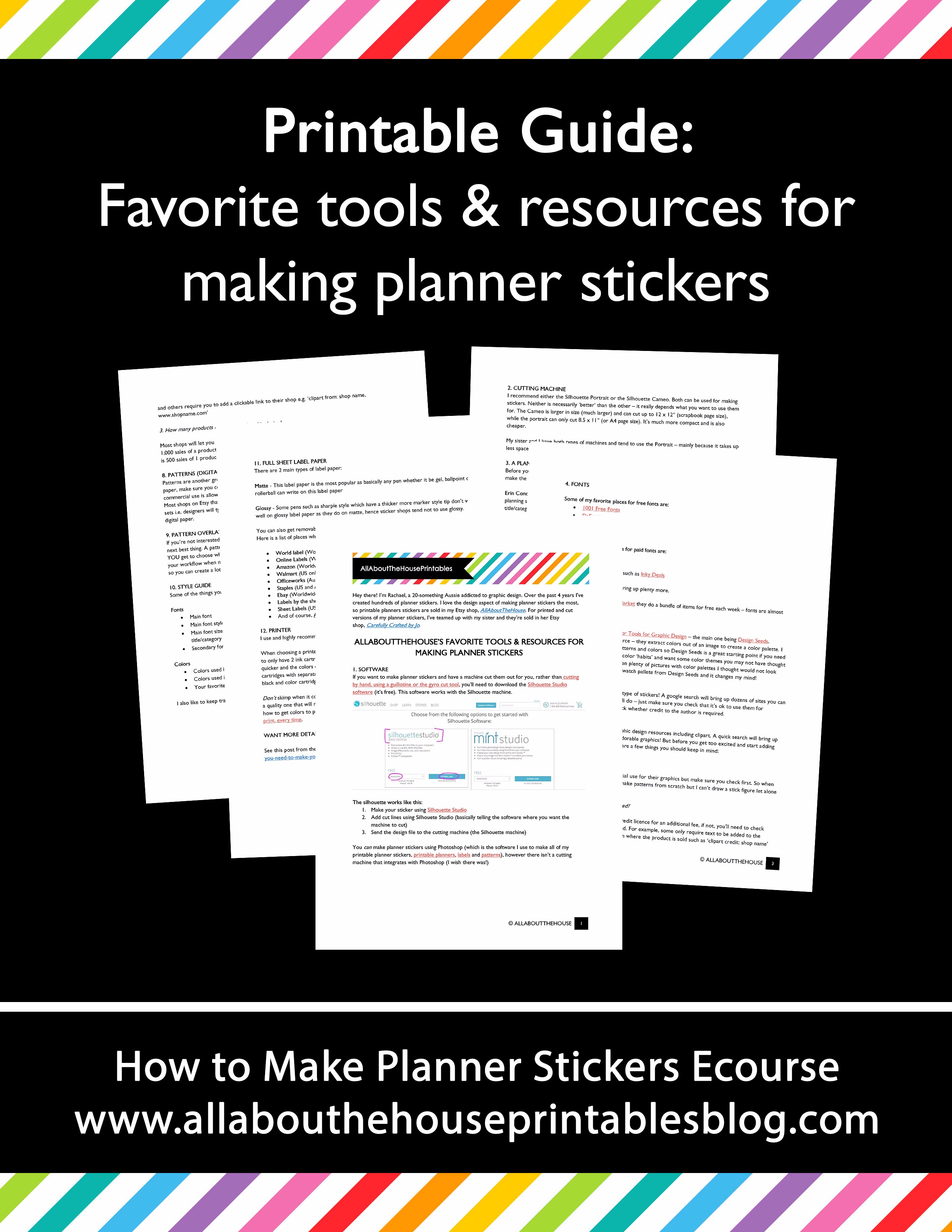 Unlike other ecourses, by the end of it you'll have a SKILL that can be used to make planner stickers for yourself, or to create planner stickers you sell on Etsy, your own website, via your blog etc.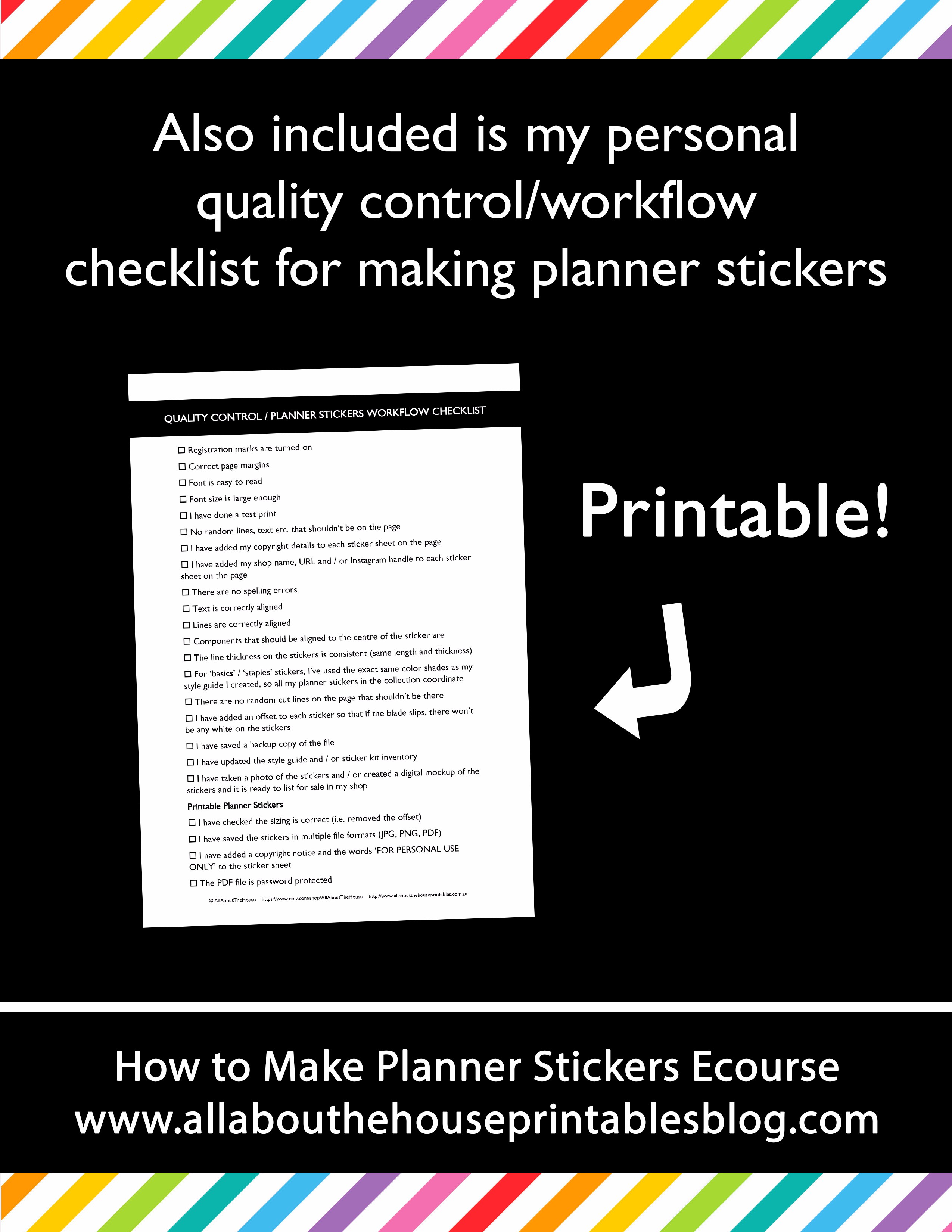 I don't just tell you I literally show you step by step and give you heaps of different design ideas. I show you quick ways to re-use and modify existing designs, to make new sticker designs in a short amount of time.
This is a very comprehensive ecourse including 38 step by step video tutorials.
I've included everything I wish I had known when I first started making planner stickers. Plus I share all of the tips and shortcuts I've discovered during the 7 years that I've been making planner stickers.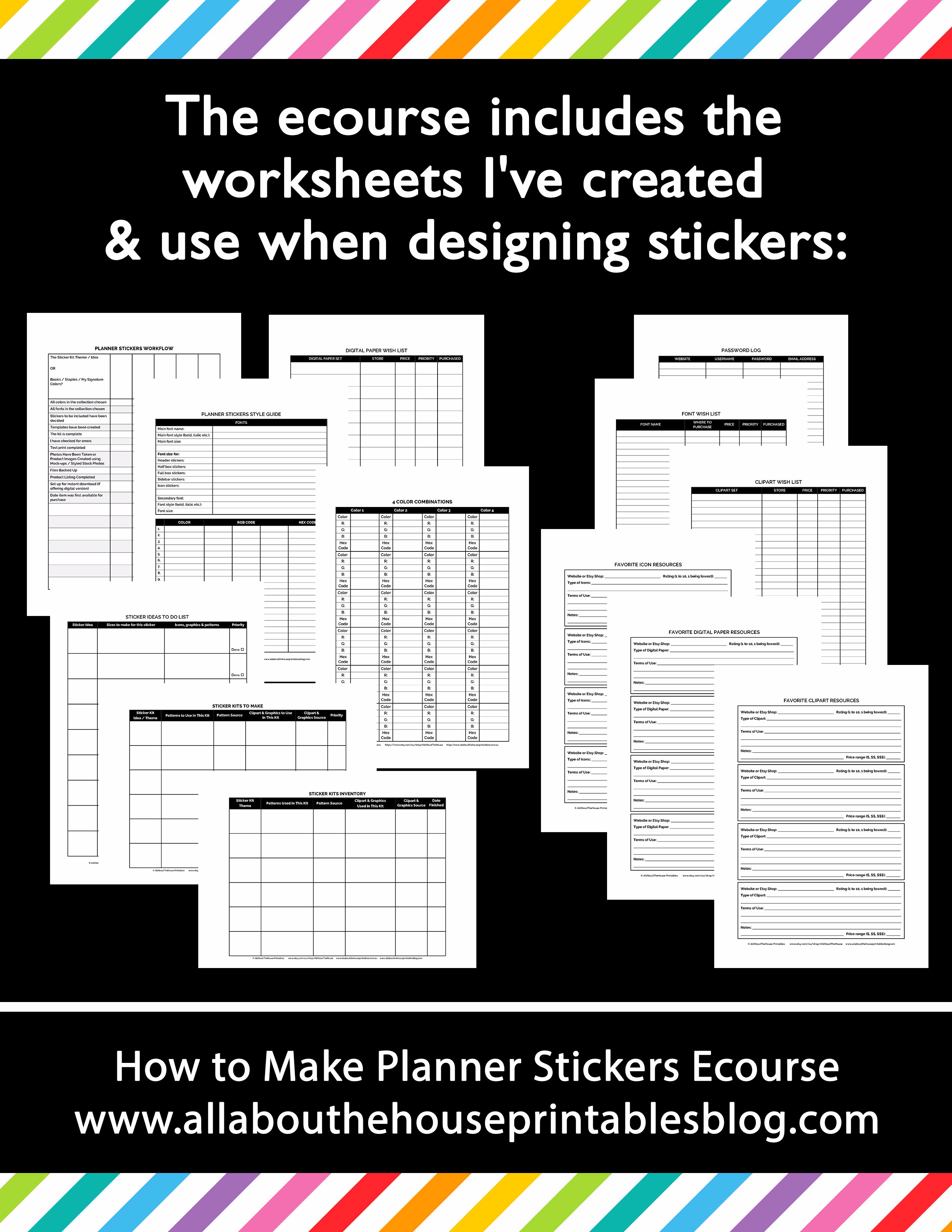 When you enroll you'll receive lifetime access.
If new tutorials and resources are added, you'll get access to those as well for no extra cost :)
You'll also learn how to make foil planner stickers!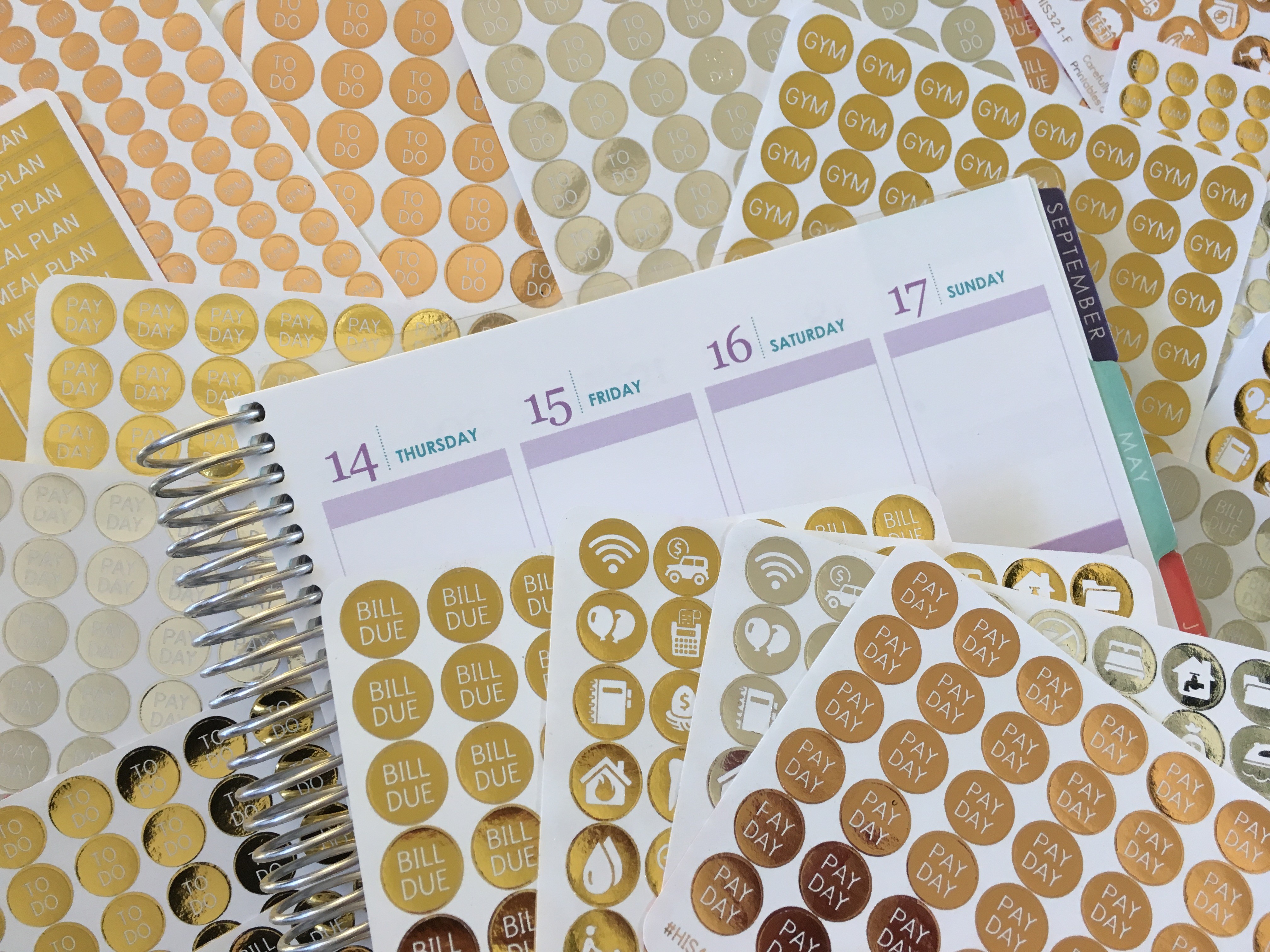 An email I recently received from one of my students (no filter, I literally cut and paste her email):
"As an educator and thirsty learner, I carefully choose which courses I invest in online.
When I discovered Rachael's courses on Printables and Creating Patterns, I knew I had struck a gold mine.

Rachael is one of the best teachers I've ever studied with. She is extremely knowledgeable and explains and demonstrates every step, carefully. In my mind, the sign of an exceptional educator is one who anticipates her students' questions, before they come up with those questions themselves.
Whether you are a beginner with Photoshop or have years of experience designing graphics, if you would like to learn how to create Printables, Planners, or Patterns, for personal use or professional gain, your investment in any course with Rachael would be extremely worthwhile."
From an appreciative and dedicated student

D'vorah Lansky, M.Ed.
Bestselling Author of the Action Guides for Authors Series of Workbooks and Journals
www.BooksByDvorah.com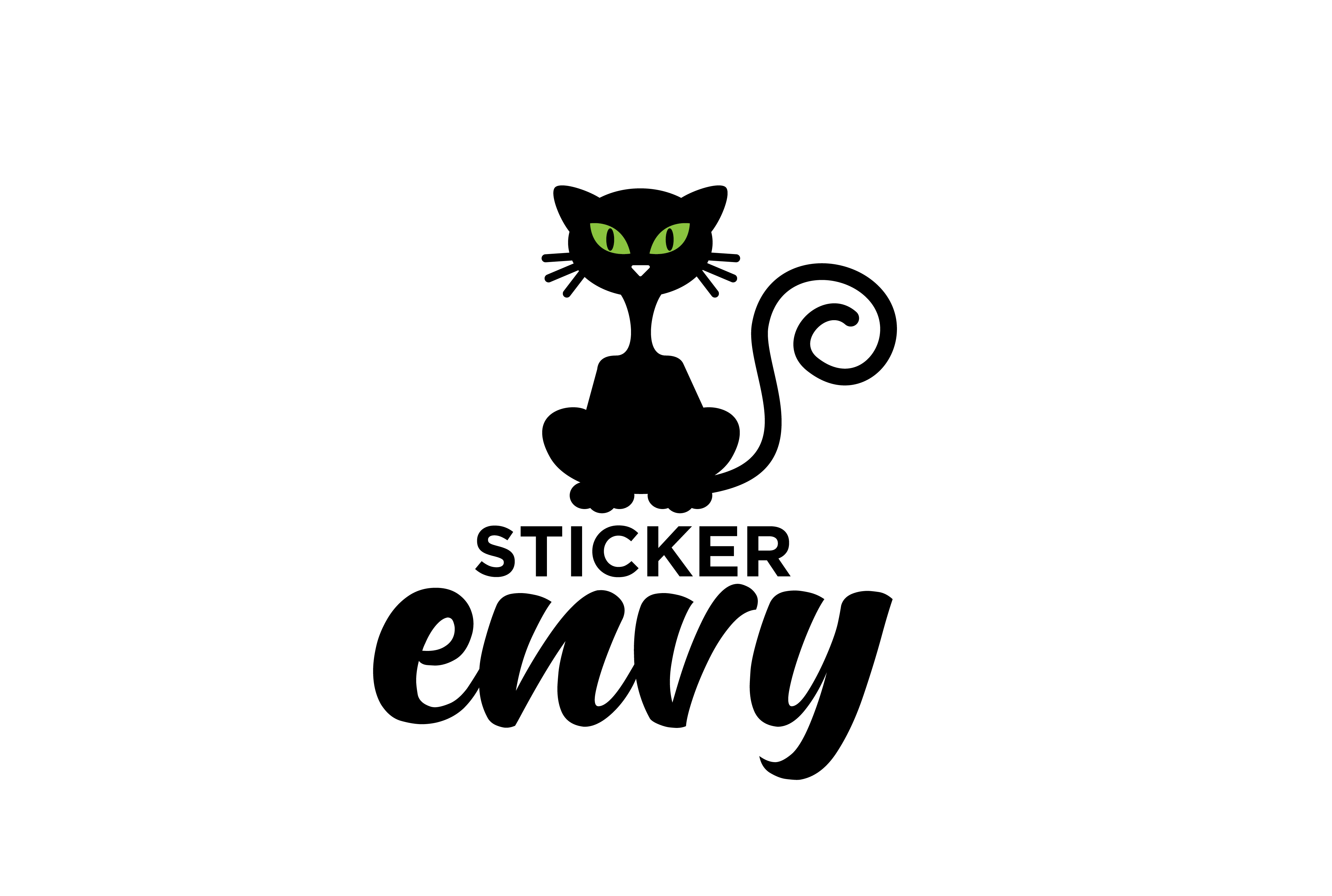 Michelle from https://stickerenvy.com.au/
Feedback from one of the students already enrolled in the course: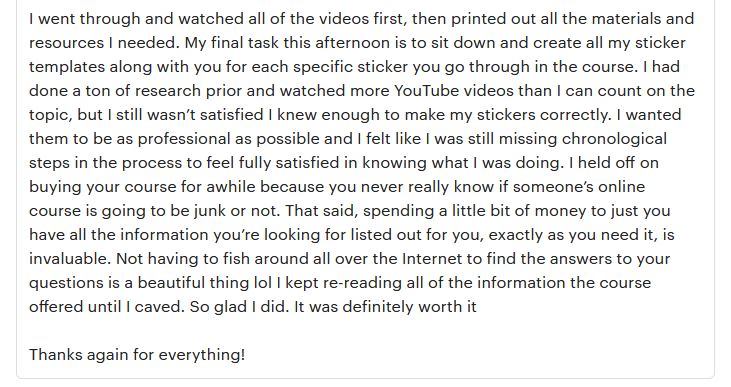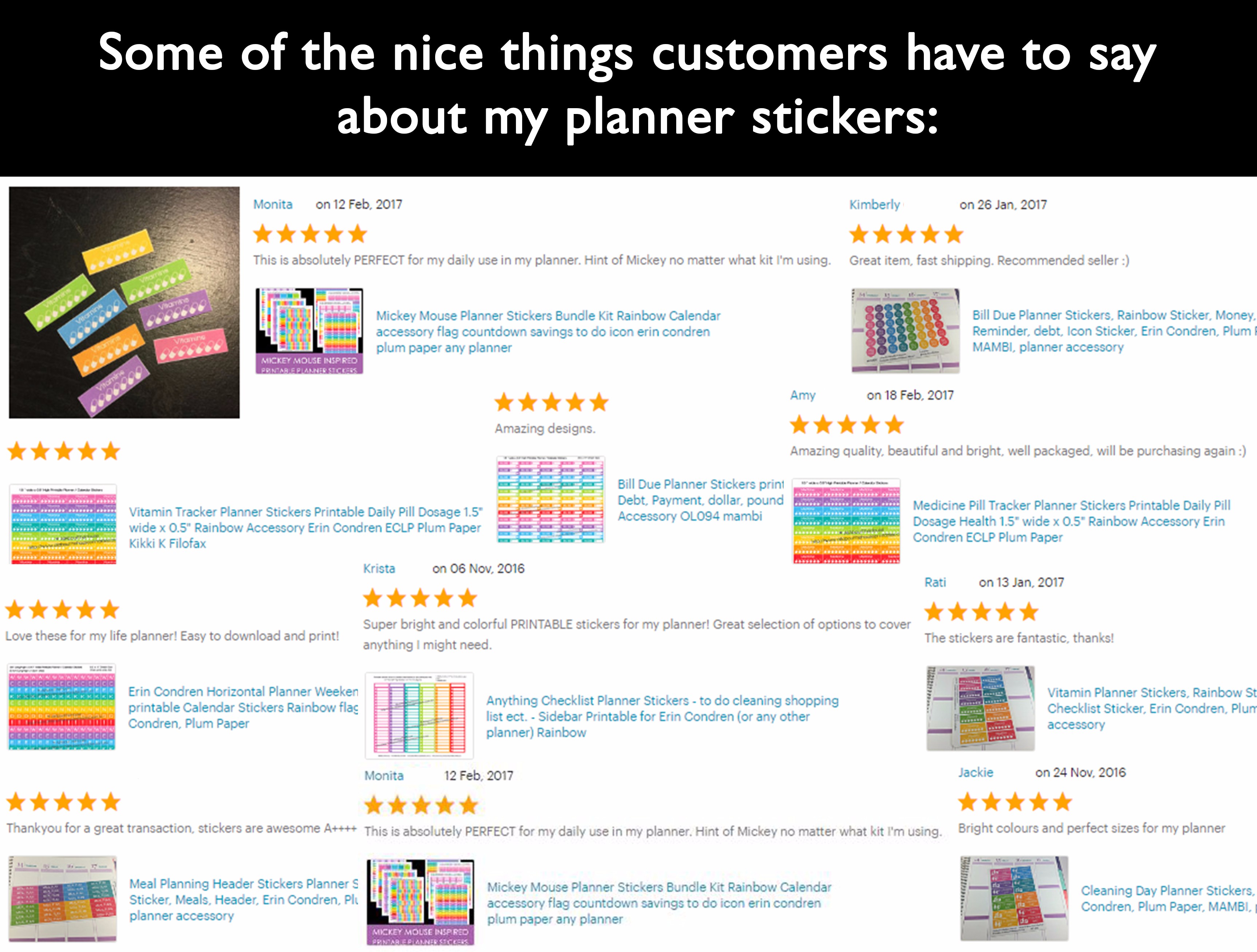 Frequently Asked Questions
When does the course start and finish?
This is a self-paced online course - you will receive immediate access to the ecourse after your enrol. If you enrol now, you can have your first planner stickers created within an hour. You can access the course as many times as you want. You can pause, rewind and re-watch the tutorials as many times as you need.
How long do I have access to the course?
Lifetime access!
What is your refund policy?
Unfortunately due to the digital nature of the ecourse, no refunds will be given under any circumstances - serious buyers only please. If you have any questions please contact me via
[email protected]
before purchasing and I will get back to you A.S.A.P (I usually reply to emails within 24hrs - note that I am located in Australia - when it is 10am in L.A. it is 3am here!)
Software Requirements
To make stickers you'll need to download Silhouette Studio which is a free software: https://www.silhouetteamerica.com/software This ecourse was originally recorded in Silhouette Studio version 3.8. At the moment, more than half of the video tutorials have been re-recorded in Silhouette Studio version 4.4. All of the video tutorials will eventually be available in both version 3.8 and 4.4.
Do the tutorials also work for Photoshop?
The tools in Silhouette Studio are similar to Photoshop - the main differences are that Photoshop has the layers menu but in Silhouette Studio you just click on the layer you want to change. So long as you know how to use clipping masks - I shared a tutorial in this post: http://www.allaboutthehouseprintablesblog.com/use-clipping-masks-photoshop/ then the tutorials could be transferred into Photoshop. Some of Silhouette's unique tools such as creating an ombre effect can be achieved in Photoshop by using an ombre digital paper. So while the course is intended for people who have a silhouette machine, you could apply most of the tutorials to Photoshop as well. Note that I won't be able to offer detailed 1:1 support if you have questions though, and that I have a no refund policy. Just want to make sure that if you do purchase, you do so knowing that the course wasn't designed specifically for making planner stickers in Photoshop.
I have a Cricut - is the Silhouette compatible?
I don't have a Cricut so cannot say if it is comparable to the Silhouette software. In the course I teach how to use the free Silhouette Studio software which works with the Silhouette Machine. I shared a sample tutorial in this post if you want to see if the Cricut is compatible: https://allaboutplanners.com.au/how-to-make-your-own-custom-erin-condren-or-any-planner-header-title-section-planner-stickers-step-by-step-video-tutorial/ The Silhouette Portrait isn't too expensive (you don't need the more expensive Silhouette Cameo unless you decide to do projects larger than standard page size i.e. 12 x 12")
How long does the course take to complete?
You'll probably only need 1 weekend to do the course / learn the basics. Deciding what stickers to include on your sticker sheets, color scheme, patterns etc. takes longer than making the actual sticker templates! Most of the video tutorials are under 10 minutes.
So if you're ready to make stickers that FINALLY suit your planning needs, in your personal style and which perfectly fit your planner, or you want to earn extra income doing something fun, then click the enroll button to get started!
You could have your first planner stickers created less than an hour from now.