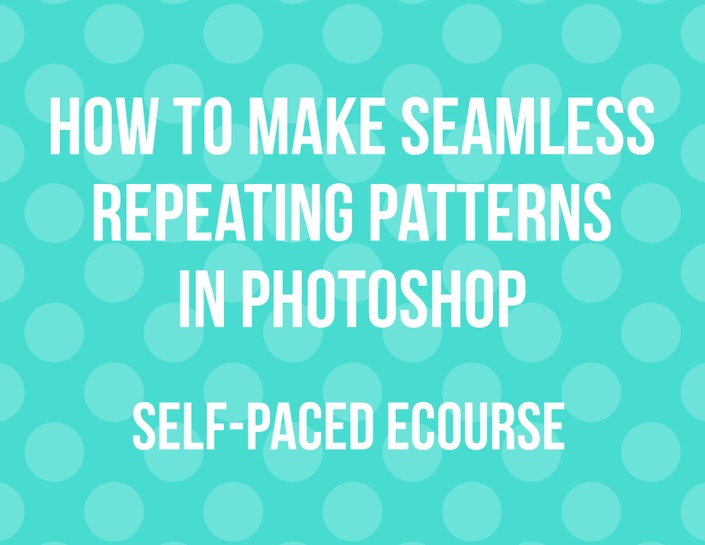 How to Make Seamless Repeating Patterns in Photoshop
Quickly and easily create repeating patterns you can sell or use to make invitations, printables, fabric, clothing, homewares and more!
Enroll in Course



Have you ever wanted to know how to make your own seamless repeating patterns in Photoshop?
Then you're in the right place! In this self-paced ecourse I show you step-by-step how to:
Make repeating patterns in Photoshop

Choose colors for your designs

Create products using your patterns

And sell them to make $$$
Making patterns is fun, addictive and can be very profitable!
Never used Photoshop before? No design skills? No problem!
This ecourse is perfect for beginners and those that already have some knowledge of how to use Photoshop.
I'll show you how to make repeating patterns (it's really easy!) with step-by-step video tutorials you can pause, rewind and replay as often as you need.
---
Do you have messy hand-writing?
Can't draw a sketch to save your life?
Can't even a draw stick figure?
Me either! No drawing skills are necessary - I'll teach you how to make are created digitally using Photoshop's design tools.
Course Curriculum
Getting Started Making Patterns in Photoshop
Available in days
days after you enroll
Setting Up Your Files
Available in days
days after you enroll
How-to Pattern Tutorials (step-by-step video tutorials)
Available in days
days after you enroll
Who this ecourse is for:
Anyone that wants to learn how to make their own seamless repeating patterns

Budding graphic designers

If you create invitations and other printables and are sick of spending hundreds (or thousands!) or dollars purchasing graphics to use in your designs

Business owner's that want to design their own stationery & letterheads

If you want to offer custom patterns and choose your own colors for products you already sell

If you want to make your own fabric (for your personal use or to sell commercially)

College students, entrepreneurs and stay at home mom's looking for a fun way to make some extra money!
The real value of this ecourse is way more than what I'm charging, PLUS you'll save yourself:
The 3 years it took me to self-teach myself the skills I'll teach you in this ecourse

$1,000's and the years it takes to earn a college degree in graphic design (which will probably teach you a bunch of useless information you don't even need to know)

Hours of getting frustrated trying to figure it out on your own through time consuming trial and error
Why you need this ecourse:
Detailed step-by-step video tutorials are included, so you can pause, rewind and re-watch the videos as many times as you need

The techniques I'll show you can be used to create an infinite number of patterns

I share the shortcuts and tips I've learned along the way (through my own time-consuming trial and error)
---
You'll learn how to make patterns FAST (you can create simple repeating patterns in less than 5 minutes using the methods I'll show you!)
Purchase once and receive lifetime access – this e-course is self-paced so you can take as long as you need and there's no need to wait for drip-fed content. You can watch the tutorials anytime you like, as many times as you like!
You'll receive instant access.
What people are saying about my other products...
My Etsy shops have over 1300 5 star reviews, here are a just a few!


About Your Teacher:
Hey there! I'm Rachael, a 20-something Aussie addicted to graphic design. I became obsessed with making organization pintables 3 years ago, but struggled to find pretty patterns to add to my designs. So I self-taught myself how to make patterns in Photoshop. I now have 2 Etsy shops: AllAboutTheHouse where I sell organization printables and PaperCravings, where I sell digital paper. I hope this ecourse saves you the hundreds of hours of frustration I spent figuring out how to make patterns in Photoshop!
I also have a blog and can be contacted at [email protected]
Frequently Asked Questions
Software Requirements
The tutorials in this ecourse were made in Photoshop version CS6. I cannot guarantee they will work with other versions of Photoshop. You acknowledge that it is your responsibility to check what version of Photoshop you are using and that it is compatible with Photoshop CS6. I have included a FREE sample tutorial (scroll up to the 'curriculum' section of this webpage to watch it!) so you can see if your version of Photoshop is compatible. If you don't already own Photoshop, it costs only $9.99/month or you can download a free 30-day trial here: http://www.adobe.com/products/photoshop.html
I don't know how to use Photoshop
No problem! You don't need any prior experience using Photoshop . I'll show you step-by-step how to make your own patterns!
When does the course start and finish?
This is a self-paced online course - you will receive immediate access to the ENTIRE ecourse after your enroll (even if you pay via a payment plan). If you enroll now, you can have your first pattern created with an hour! You can access the course as many times as you want. You can pause, rewind and re-watch the tutorials as many times as you need.
How long do I have access to the course?
Lifetime access!
What if I am unhappy with the course?
Unfortunately due to the digital nature of the ecourse, NO REFUNDS will be given under any circumstances - serious buyers only please. If you have any questions please contact me via
[email protected]
BEFORE purchasing and I will get back to you A.S.A.P (I usually reply to emails within 24hrs - note that I am located in Australia - when it is 10am in L.A. it is 3am here!)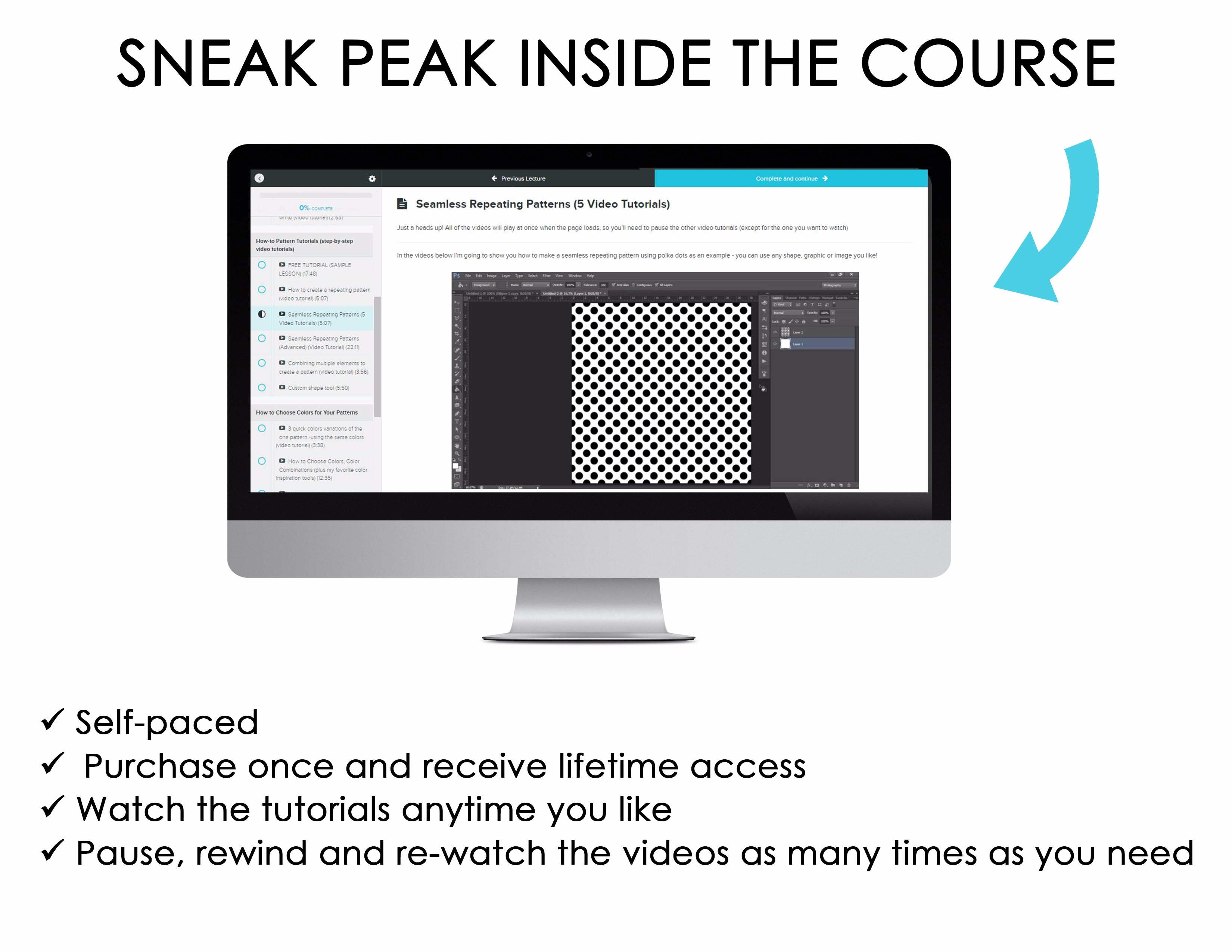 Are you on the fence about investing in the course?
Let me put it this way for you: here's what will happen if you DON'T purchase the course:

Keep wasting hours trying to find the patterns you want (and hoping they fit your budget and are in nice colors that match your brand)
Pay a ton of $$$ and wait a long time for a graphic designer to make custom patterns for you (that's if you can even find someone that will make you exactly what you need)
Stay stuck purchasing patterns that everyone else has, meaning your products look like everyone else's
Waste years and rack up thousands of dollars of debt studying graphic design at college (where they'll probably teach you a bunch of stuff you'll never even use)
Or, you can purchase this ecourse and...
Save a ton of time and money by not having to find ready-made patterns to use in your products

Stop wasting hours sending emails to check if it's ok to use someone's else's designs for commercial use
Stop stressing about getting slapped with a lawsuit for using someone else's designs

You'll no longer need to give credit when using another designers' patterns in your products

Quickly learn the skills to make your own unique patterns

Have the ability to make the patterns you need RIGHT NOW

Choose whatever colors you want for your patterns so you can create the perfect product

Choose colors that actually represent your brand

Have the ability to create color (and pattern!) coordinated product collections

The ability to make unique custom, one-off creations for your customers

Create a competitive advantage and unique selling point for your products - no one else's products will look like yours!

Create a business that you LOVE (or just use the skills to earn some extra money to help pay the bills!)

and have fun while doing it :)


Do something today your future self will thank you for
It took me 3 years to self-teach myself how to make patterns in Photoshop, you can get instant access to these skills TODAY!
Purchase once and receive lifetime access. You can come back and re-watch video tutorials as many times as you like, pause, fast forward, rewind etc.
I have made THOUSANDS of $$$ using the skills I teach you in this course.
Enroll now and you can have your first pattern created within an hour
The price will be going up soon
All payments are in USD