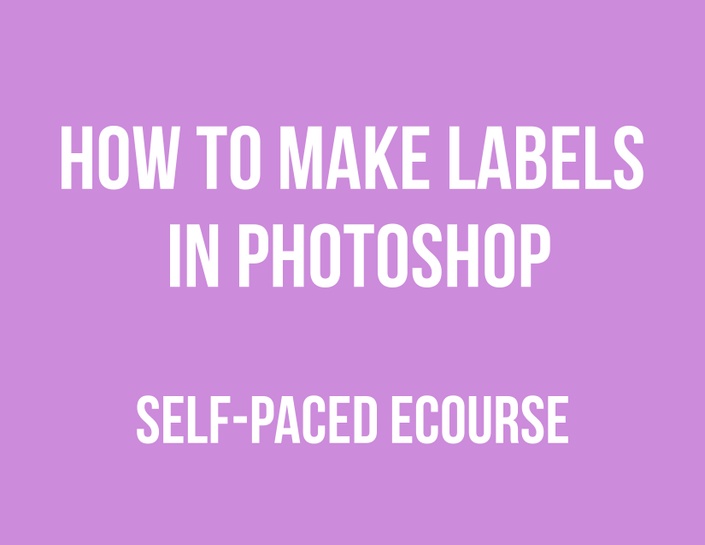 How to Make Labels In Photoshop
How to make any type of label including but not limited to: pantry labels, gift labels, party stickers, organizing etc.!
Want to learn how to quickly and easily make your own labels in Photoshop? Then you're in the right place!
Labels are my favorite organizing tool! I use them for:
Labeling storage bins

Pantry labels

Birthday and gift labels

Office organization

Keeping track of the contents of boxes in storage e.g. Christmas decorations

Address labels

Branded business labels e.g. for sealing packaging and envelopes

etc.!
There are 13 video tutorials included in this ecourse where I show you EXACTLY how to make your own labels step-by-step. You can pause, re-watch and rewind the videos as many times as you need - purchase once and you'll receive lifetime access!
You can use the skills I'll teach you to create labels for your personal use, to offer to your blog readers as a free opt-in or to sell in your Etsy shop or online store.
Frequently Asked Questions
Software Requirements
The tutorials in this ecourse were made in Photoshop version CS6. You acknowledge that it is your responsibility to check what version of Photoshop you are using and that it is compatible with Photoshop CS6. There are FREE sample tutorials in the free graphic design video tutorials library http://buildabiggeronlinebusiness.teachable.com/courses/free-graphic-design-video-tutorials so you can see if your version of Photoshop is compatible. If you don't already own Photoshop, it costs only $9.99/month or you can download a free 30-day trial here: http://clkuk.tradedoubler.com/click?p(264300)a(2782432)g(22913526)url(https://creative.adobe.com/plans) (this is my affiliate link, if you choose to purchase Photoshop I'll receive a small commission for referring you, at no extra cost to you!)
I don't know how to use Photoshop
No problem! You don't need any prior experience using Photoshop . I'll show you step-by-step how to make your own labels
When does the course start and finish?
This is a self-paced online course - you will receive immediate access to the ENTIRE ecourse after your enroll (even if you pay via a payment plan). If you enroll now, you can have your first pattern created with an hour! You can access the course as many times as you want. You can pause, rewind and re-watch the tutorials as many times as you need.
How long do I have access to the course?
Lifetime access!
What if I am unhappy with the course?
Unfortunately due to the digital nature of the ecourse, no refunds will be given under any circumstances - serious buyers only please. If you have any questions please contact me via
[email protected]
before purchasing and I will get back to you A.S.A.P.
I have a question that's not listed here
No worries, just email me
[email protected]
and I'll get back to you A.S.A.P (I usually reply to emails within 24hrs - note that I am located in Australia - when it is 10am in L.A. it is 3am here!)
Enrol now and you can have your first label created within an hour!
All prices are in USD.
The price will be going up soon.