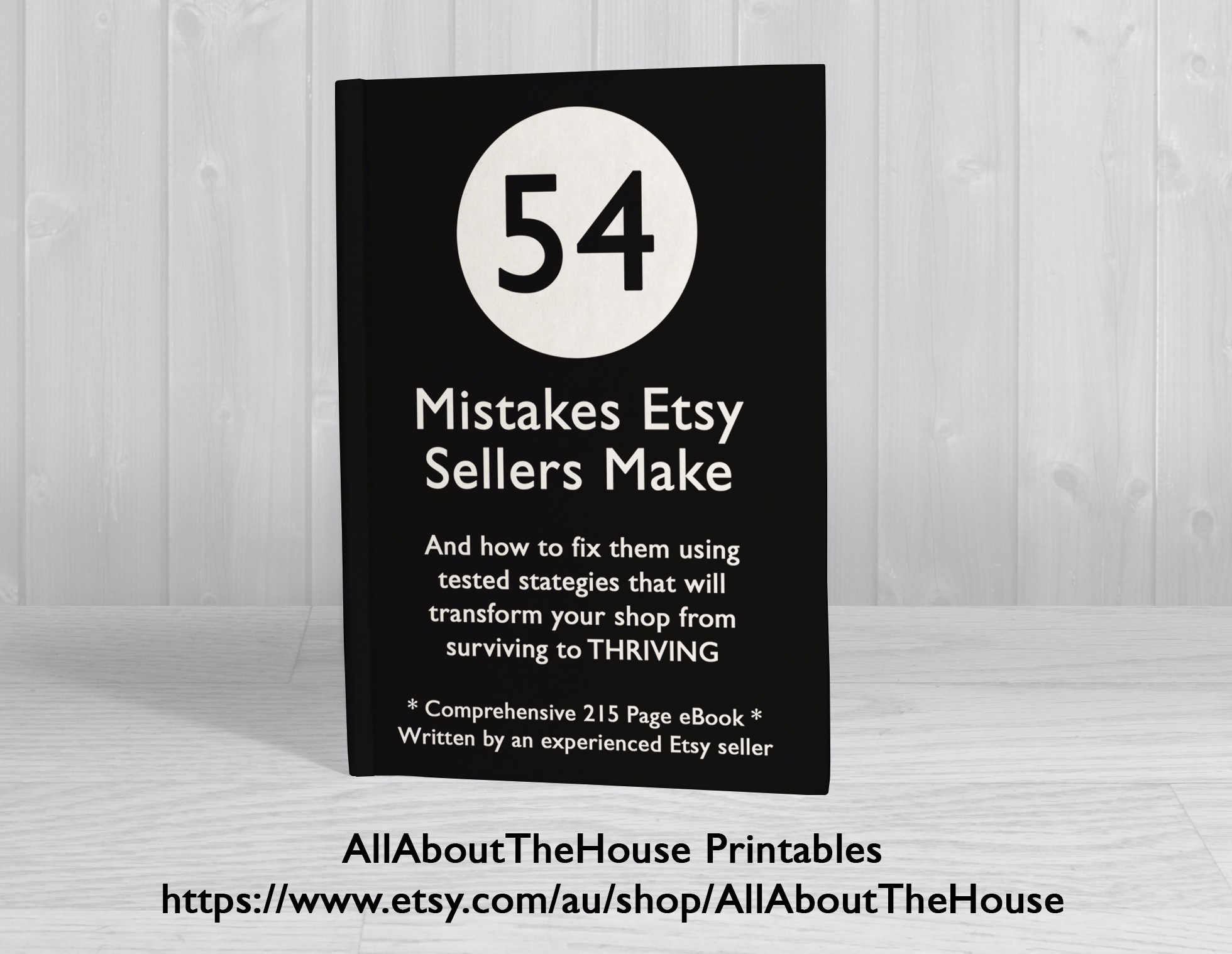 TOPICS COVERED IN THIS BOOK (BUT NOT LIMITED TO) ARE:
- Ways you don't even realize you're turning customers away
- Fostering repeat business
- Competitor market research
- My step by step market research product viability process I use to determine whether a product is worthwhile or if it's likely to be a flop
- SEO, social media & marketing you shop (what to do and what NOT to do)
- In-depth shop analytics analysis
- Simple changes and tweaks that make a big difference
- How to find your target customers
- How to make more money from the products you already have (and with minimal effort)
- Pricing
- Shipping
- Shop management
- Improving efficiency and workflow
- Product photos (mistakes that are so easy to fix and yet most people don't do them)
- Product descriptions/sales copy
- How to convert browsers into buyers
- Bookkeeping
- Goal setting & business planning
- Key differences between hobby Etsy shops and business Etsy shops
- And much more top secret information!!
Also included are my favorite resources I've used to grow my Etsy shop, and which you can use to help turn your shop into a thriving business :)
Most ebooks will tell you what to do, but not HOW to do it. This ebook is different. I share all of the strategies I've devised from my 4 years of selling on Etsy. You know how to set up an Etsy shop, let's move past the introductory stuff and get into the real strategies. This ebook does NOT have regurgitated information; these are my own personally devised methods, my tried and true formulas for generating a consistent healthy income online from my Etsy shops.

WHO IS THIS EBOOK FOR?
- Newbie and experienced Etsy sellers (yes, there are mistakes in this book that even experienced Etsy sellers make!), in ANY niche - the mistakes in this ebook are made by digital physical product sellers, handmade Etsy shop owners, and those that sell supplies
- If you want to stop wasting time on, quite frankly, crappy, regurgitated, basic advice and want quality tried and tested strategies I've personally developed and which ACTUALLY WORK
- This ebook is full of actionable content. I give TONS of examples and step out exactly what you need to do (and what not to do)
- This is a super comprehensive ebook - 215 pages (63,500 words of insanely useful advice). It includes a clickable table of contents for quick and easy navigation. The information is set out in an easy to digest format with the mistakes in suggested numerical order (although you can complete them in any order depending on what stage of your business you're at or if you want to start with your problem areas first).